Spotlight on Our Team – Matt Mullins
In this 'Spotlight on Our Team – Matt Mullins' blog, we introduce you to Matt Mullins, our Executive Consultant based in the UK. With a wealth of experience in the mining industry, Matt has contributed to major corporations and mid-tier companies across 26 countries. In a recent conversation, we explored Matt's remarkable journey, from his upbringing in South Africa to his diverse career experiences.
Beyond his role at Snowden Optiro, we explored Matt's passion for hiking, family history research, and for Geoheritage.
Q: Can you tell me a bit about your background and where you grew up?

I grew up in a small University town in the Eastern Cape of South Africa, called Grahamstown, and after a year in Brazil (where I was bitten by the travel bug) and a year doing military training, largely in Namibia, I decided to study geology and computer science, eventually majoring in geology and chemistry, in 1982.
Q: What are some significant events or experiences that have shaped who you are today?
Spending a year in Brazil when I was 18 opened my eyes to other wonderful people and cultures.
My first job working at +3km underground on the Witwatersrand Gold Mines brought me down to Earth (literally).
Doing a stint as an analyst on the Stock Exchange was a great eye-opener to the world of finance.
Chairing the SAMREC and SAMVAL committees, and then the SAMCODES committee were great experiences in leading those type of challenging industry-wide initiatives
Having three daughters. I came from a large family full of boys, and bringing up three daughters was a great learning experience.
Q: What is your educational background and any degrees or certifications you've earned?
BSC (Hons) Geology; Chamber of Mines Certificate in Advanced Mine Valuation; JORC Reporting Certificate; many in-house Company qualifications.
Q: How did you choose your career path and what motivated you to pursue it?
More by accident than design. My father wanted me to follow in his footsteps and become a lawyer. I didn't fancy that, so chose a broad science degree, which turned into a love for geology.
Q: Can you highlight any notable milestones or achievements in your professional life?
Starting my first consulting company when I was 30, building it up to 70 people, then selling it.
Doing global acquisitions for Randgold Resources, culminating in an in-country stint in Mali
Joining Billiton and then BHP was a masterstroke, as I got involved in most of the major commodities. The 2000's was a period of enormous growth, and getting involved in many of the World's great deposits and mineral provinces was incredibly exciting.
Heading up BHP's global productivity project, which successfully transformed the Company
Taking an industry leadership role in professional affairs for geologists, culminating in being made President of the Geological Society of South Africa.
Q: What are your hobbies, interests, or creative outlets outside of work?
Hiking and trekking, and I recently summitted Kilimanjaro.
Researching my family history, and I am writing a book on it.
Writing geoheritage articles. I'm developing geological field guide training material for South African game park field guides (including the development of an App).
I have also recently become involved with the Natural History Museum in London to develop a new display.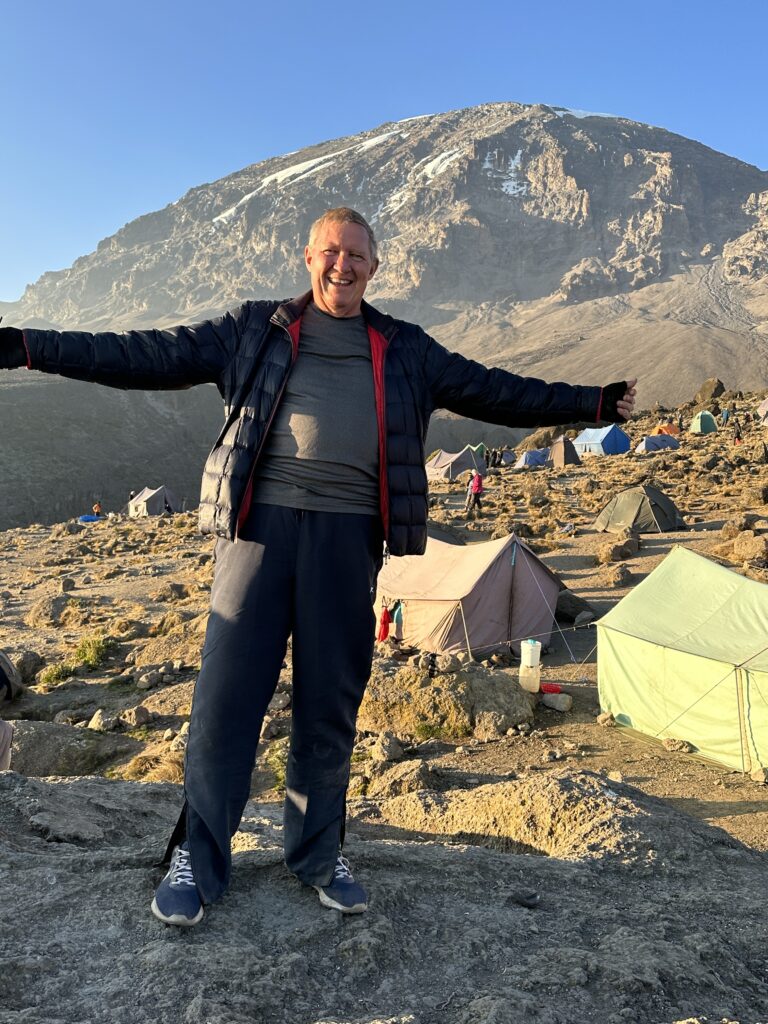 Q: Is there a particular cause or mission that you feel strongly about?
Geoheritage. In the past we used the riches of the planet to benefit and improve our lives and standard of living, often with little regard to the environmental damage that we were causing. I get involved in developing and preserving our geological heritage to encourage geoconservation and care for our planet.
Who are the individuals that have greatly influenced or inspired you?
Siya Kolisi is incredibly inspiring as a leader and as a human being.
Q: Are there any books, movies, or works of art that have had a profound impact on you?
I make the most of living in London to regularly visit the great museums and galleries. There are so many. I really enjoy the Impressionist and some post-Impressionist paintings, especially Van Gogh. I enjoy reading biographies, historical fiction and popular science, nowadays mostly as audio books. The occasional murder mystery.
Q: Have you had mentors or role models guide you along your journey?
I have had some very good career mentors: Oscar Steffen, Ted Grobicki and Ian Preston. I used to play golf with Oscar Steffen and Richard Viljoen at the Johannesburg Country Club on a Saturday morning, and those informal fairway discussions were very inspiring, and a lot of fun.
Q: What are some significant challenges you have faced in your career?
Understanding the cyclical nature of the industry and its impact on careers was a challenge, especially in my early career. Some Companies had, and still have, a very cavalier attitude towards staff in commodity price cyclical downturns.
Q: How did you overcome those challenges?
Aggressively and rapidly broadening my skills base out of geology into mining and finance, and by being flexible and open to new opportunities.
What are your current goals and aspirations, professionally?
At the moment I'm making time to pursue my many hobbies, and also to travel and to spend more time with my three grandchildren. I'm looking forward to spending more time on the family vineyard in Stellenbosch, with two of the grandkids.
Q: Where do you see yourself in the future?
Continuing to get involved in interesting mining projects, while at the same time achieving a balance with family, travel and hobbies.
Q: Are there any specific projects or initiatives you're excited about pursuing?
Geoheritage in general. I am really excited about getting involved with the Natural History Museum in London, and to help influence the thoughts and ideas of the 6 million annual visitors that they have.
We extend our sincere gratitude to Matt for sharing his experiences and thoughts and wishing him continued success as an Executive Consultant at Snowden Optiro.
If you'd like to connect with Matt, you can message him here.
We provide a lot of great technical content for free!
Subscribe here for our podcasts, technical articles and news